1936 is a year in the 20th century.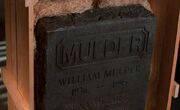 It should be noted that William Mulder could not have been born in this year, as he was already portrayed as an adult in 1952 in "Travelers." The tombstone has other inconsistencies, such as placing Samantha Mulder's death in 1979 and misspelling Teena Mulder's first name as "Tena."
Ad blocker interference detected!
Wikia is a free-to-use site that makes money from advertising. We have a modified experience for viewers using ad blockers

Wikia is not accessible if you've made further modifications. Remove the custom ad blocker rule(s) and the page will load as expected.