20th Century Fox is a movie studio where the film The Lazarus Bowl was produced. It is located in Hollywood, California.
Stage 8 was one of the stages of 20th Century Fox used to film the movie. The film was subsequently shown at the studio's Darryl Zanuck Theatre. (TXF: "Hollywood A.D.")
Behind the scenes
Edit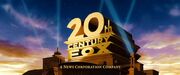 20th Century Fox is an actual major movie studio based in Hollywood. It is part of News Corporation, one of the world's largest media conglomerates.
In 1992, Chris Carter signed a development deal with 20th Century Fox that allowed him to create The X-Files and form his own production company, Ten Thirteen Productions.
The X-Files proved popular during its first run broadcast and the executives at Fox asked Carter to develop another series that would run simultaneously with his first show. In response, Carter developed Millennium, a series that he pitched to Fox as "Seven set in Seattle".
Millennium was first broadcast in 1996. While it continued its initial run, 20th Century Fox released an X-Files movie in 1998. However, Fox decided to cancel Millennium the following year.
In 2001, The Lone Gunmen – another spin-off of The X-Files – was briefly broadcast. Although the show's ratings were actually higher than the first-season ratings of The X-Files, only thirteen episodes were broadcast with the last episode airing four months after the pilot episode.
The following year, The X-Files suffered a similar fate when it was canceled due to faltering ratings.
Despite the series being canceled at the time, a second feature film, The X-Files: I Want to Believe was produced and released in 2008.
External links
Edit
Ad blocker interference detected!
Wikia is a free-to-use site that makes money from advertising. We have a modified experience for viewers using ad blockers

Wikia is not accessible if you've made further modifications. Remove the custom ad blocker rule(s) and the page will load as expected.