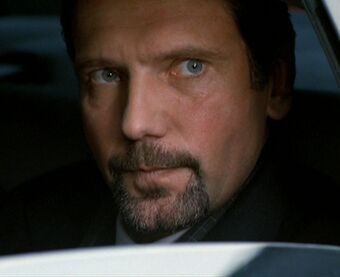 Ara Frumin was a Russian crime lord who imported illegal goods into the United States of America. 
Involvement with the Lone Gunmen
Edit
When John Fitzgerald Byers e-mailed the footage from the night Jeff Strode died to Yves Adele Harlow, she came to their headquarters and told them she recognized Ara Frumin.  The blackmail target of Strode had been meeting with Frumin so he may have had Jeff Strode killed to serve his interests.  Though careful, he would kill without compunction to protect himself.  Her speculation that Assistant Director Walter Skinner may be in Frumin's pocket is what leads them to surveyal Skinner with disastrous results. 
Background
Edit
Yves Adele Harlow explains that Ara Frumin was a very cautious mob boss with a vast array of criminal enterprises.  She suggested he had many friends on the Moscow police force due to bribery. 
Ara Frumin was actually willing to sell a six pound pit of Plutonium because of the collapse of the Soviet Union.
Ad blocker interference detected!
Wikia is a free-to-use site that makes money from advertising. We have a modified experience for viewers using ad blockers

Wikia is not accessible if you've made further modifications. Remove the custom ad blocker rule(s) and the page will load as expected.