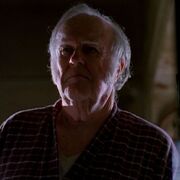 Arthur Dales was a police officer in Roswell, New Mexico in the 1940s but had retired by 1999. He had a brother, a sister and a goldfish who were each also named Arthur Dales.
In 1999, Mulder came across a photograph of Arthur Dales as a police officer in Roswell, New Mexico. In the photograph, Officer Dales was with the baseball player Josh Exley and the alien bounty hunter can be seen in the background. Mulder went to Arthur Dales to find out what he knew about the alien bounty hunter and why the bounty hunter would be in Roswell in 1947. Arthur wove Mulder a fantastic tale involving an alien disguised as baseball player, who became so human he bled human blood when the bounty hunter killed him. He ridiculed Mulder for his preoccupation with alien conspiracies and his dry descriptions of the tale that Arthur was trying to tell. (TXF: "The Unnatural")
"Mulder? Where are you?"
This article is incomplete. You can help the X-Files Wiki By expanding it.
Ad blocker interference detected!
Wikia is a free-to-use site that makes money from advertising. We have a modified experience for viewers using ad blockers

Wikia is not accessible if you've made further modifications. Remove the custom ad blocker rule(s) and the page will load as expected.