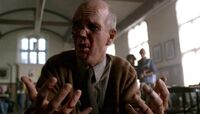 Mr. Babbitt (played by David Wells) was a high school teacher whose students included Max Harden, Anthony Reed, and Chastity Raines. During a midterm exam, Harden appeared with two minutes left and yet he finished the exam with every answer correct. Unaware of Harden's unnatural superhuman speed, Babbitt flunked him. Harden was furious with Babbitt and humiliated him in the cafeteria by tripping and spilling his food all over the floor. He then attacked Babbitt and rammed him into the wall of the cafeteria, nearly slicing him in half. Babbitt was then finally killed when Harden launched a chair straight at his head, smashing it into the wall. (TXF: "Rush")
Ad blocker interference detected!
Wikia is a free-to-use site that makes money from advertising. We have a modified experience for viewers using ad blockers

Wikia is not accessible if you've made further modifications. Remove the custom ad blocker rule(s) and the page will load as expected.