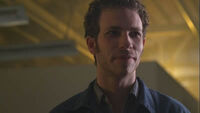 Billy LaBonge (played by Jonathan Levit) was a magician and protege of Herman Pinchbeck. Together, they orchestrated an elaborate scheme to rob the Cradock Marine where Albert Pinchbeck worked of $1.8 million and frame Cissy Alvarez at the same time. (TXF: "The Amazing Maleeni")
"Mulder? Where are you?"
This article is incomplete. You can help the X-Files Wiki By expanding it.
Ad blocker interference detected!
Wikia is a free-to-use site that makes money from advertising. We have a modified experience for viewers using ad blockers

Wikia is not accessible if you've made further modifications. Remove the custom ad blocker rule(s) and the page will load as expected.