Agent Blythe was a dirty CIA operative who was selling secrets to the government of the People's Republic of China. Using a kids' show (the Cap'n Toby Show) as the conduit to send information worked well until the FBI (and later the Lone Gunmen) caught onto it.
For whatever reason she favored a poison dart shooter and hand to hand combat.
Involvement with the Lone Gunmen
Edit
She killed two FBI agents in a parking garage at a shopping mall using a wrist mounted dart shooter. Whatever poison it used killed them very fast. The Lone Gunmen caught onto two strange deaths on the same day and began looking into this.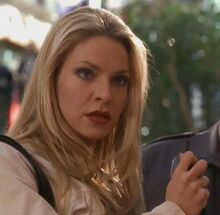 Later she framed the host of the Cap'n Toby Show by planting a microfilm in his dressing room. She had to after Jimmy Bond and Yves Adele Harlow followed her in the mall. She realized how close these journalists were to the truth when she had them detained and bullied them into revealing what they knew.
After the framing of Fred Tabalowski, the show's producer John Gillnitz came to her about how the information was being sent to the Chinese. Not realizing Tabalowski was innocent, Gillnitz explained this to Blythe and sealed his fate. Once again, she killed a man using a dart.
When Yves Harlow and Jimmy figured out there was something at the copy shop that Blythe kept failing to retrieve they picked it up only to encounter Blythe who brought them to the roof of the parking garage to execute them. Yves beat her into unconsciousness after her dart shooter failed to poison Jimmy.
Blythe was arrested as the true traitor with Tabalowski vindicated.
Ad blocker interference detected!
Wikia is a free-to-use site that makes money from advertising. We have a modified experience for viewers using ad blockers

Wikia is not accessible if you've made further modifications. Remove the custom ad blocker rule(s) and the page will load as expected.