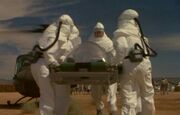 A bubble litter is a transparent quarantine unit that was used by the Syndicate for the transportation of humans infected with an alien virus. The Syndicate used at least two types of bubble litter.
In 1998, a bubble litter of this type was transported, via a med-evac chopper that also carried five haz-mat suited paramedics and Doctor Ben Bronschweig, to the proximity of a cave in Blackwood County, North Texas, where the bubble litter was carried out of the helicopter, loaded with the paralyzed, infected body of Stevie Richardson and lifted back to the helicopter, passing Dr. Bronschweig on the way. The bubble litter, containing Stevie's body and accompanied by the paramedics, soon left the area, aboard the med-evac chopper.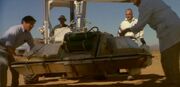 A more complex bubble litter, essentially a self-contained life support unit, was later used by Syndicate scientists preparing to transfer an infected fireman from the cave. The bubble litter was lifted by a bulldozer near to the opening of the cave, where Dr. Bronschweig ordered the scientists to check and recalibrate all of the settings on the bubble litter, adding that he wanted, after he had administered a vaccine into the fireman's body, a steady, negative two degrees Celsius throughout the body's transfer. The bubble litter was unrequired, however, as, shortly after subsequently entering the cave, Dr. Bronschweig was attacked and killed by a vicious, long-clawed alien that had gestated from the fireman's torso.
The same type of bubble litter, covered with a thin layer of frost, was later used during the transfer of FBI Special Agent Dana Scully to a UFO buried below a Syndicate ice station in Wilkes Land, Antarctica. The bubble litter carrying Scully was loaded into a private jet at Washington National Airport, an operation overseen by a nonspeaking Cigarette Smoking Man. The bubble litter was later discovered inside the UFO by Scully's partner, Special Agent Mulder, but Scully and the frosty, transparent section that had surrounded her, during the transfer of her body onto the airplane, had been removed. Mulder found her clothing and necklace had been left inside the bubble litter. (The X-Files Movie)
Ad blocker interference detected!
Wikia is a free-to-use site that makes money from advertising. We have a modified experience for viewers using ad blockers

Wikia is not accessible if you've made further modifications. Remove the custom ad blocker rule(s) and the page will load as expected.