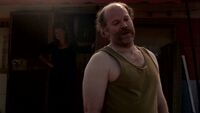 Cal Jeppy (played by Jim Cody Williams) was the boyfriend of Marcia Purnell and proprietor of a traveling petting zoo. He abused Ronald Purnell, verbally and likely physically, and forced him to help kidnap Billy Underwood in 1990. When an apparition of Billy appeared ten years later, Agents Scully and Doggett became involved in the case, ultimately finding their way to Jeppy's property in search of Josh Underwood. Jeppy tried to flee but was stopped by Doggett. After rescuing Josh, they discovered the body of Billy, who had been dead for some time. Jeppy was presumably taken into custody for Billy's abduction and murder. (TXF:"Invocation")
Ad blocker interference detected!
Wikia is a free-to-use site that makes money from advertising. We have a modified experience for viewers using ad blockers

Wikia is not accessible if you've made further modifications. Remove the custom ad blocker rule(s) and the page will load as expected.