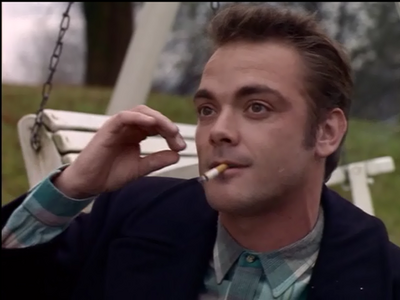 Cecil L'Ively
(
Mark Sheppard
) is a man with pyrokinesis, or the ability to control fire. He used this ability to murder several important dignitaries in
England
before doing the same in the
United States
. He was ultimately defeated by Agents
Mulder
and
Scully
with assistance from
Phoebe Green
.
During the episode Scully finds out that a person in the UK with this name has died two times under hot and strange circumstances. The first person was a kid that apparently was burned alive during a satanic ritual sometime in the '60s. The second person died in 1971 in a terrible fire. In the end of the episode L'Ively spontaneously catches fire and recovers "miraculously" fast in a military hospital. On asked how they can help him further, L'Ively responds to the nurse that he would die for a cigarette.
Appearances
Edit
Ad blocker interference detected!
Wikia is a free-to-use site that makes money from advertising. We have a modified experience for viewers using ad blockers

Wikia is not accessible if you've made further modifications. Remove the custom ad blocker rule(s) and the page will load as expected.