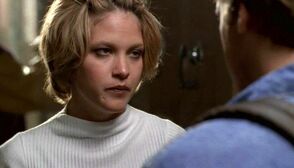 Chastity Raines (played by Nicki Aycox) was the somewhat girlfriend of Max Harden and a friend of Anthony Reed. Like Harden, she was exposed to the mysterious cave that offered superhuman speed for a period of time. She and Reed decided to stop Harden after a spree in which he killed Ronald Foster, Mr. Babbitt, and nearly his own father, Sheriff Harden. In a final showdown at the cave, Raines took Harden's gun - which he had taken from his father - and shot him. While in her state of super speed, the bullet appeared to be moving very slowly through the air. Raines stepped in front of it, killing herself. Both were found dead by the time Mulder and Scully arrived at the scene. (TXF: "Rush")
Ad blocker interference detected!
Wikia is a free-to-use site that makes money from advertising. We have a modified experience for viewers using ad blockers

Wikia is not accessible if you've made further modifications. Remove the custom ad blocker rule(s) and the page will load as expected.