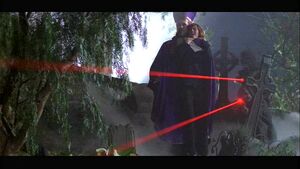 The Cigarette Smoking Pontiff (played by Tony Amendola) was a character in Wayne Federman's film The Lazarus Bowl. The character apparently had a plan to use the biblical Lazarus Bowl to create an army of zombies, but was challenged by FBI agents Fox Mulder and Dana Scully, portrayed by Garry Shandling and Téa Leoni, respectively. The Smoking Pontiff character was based on Augustine O'Fallon. (TXF: "Hollywood A.D.")
It is possible that Wayne Federman also based the character partially on the Cigarette Smoking Man, perhaps with Skinner's input, but there is no evidence to suggest that Federman was aware of the Cigarette Smoking Man.
Ad blocker interference detected!
Wikia is a free-to-use site that makes money from advertising. We have a modified experience for viewers using ad blockers

Wikia is not accessible if you've made further modifications. Remove the custom ad blocker rule(s) and the page will load as expected.