Dean Haglund
Comments

0
2,263pages on
this wiki
Dean Haglund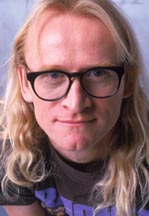 ...as Richard Langly
Canadian actor Dean Haglund (July 29, 1965 – ) played Richard "Ringo" Langly, one of the Lone Gunmen, in many episodes of The X-Files and all episodes of The Lone Gunmen.
Dean Haglund also portrayed the role of Lanlgy at an X-Files live action role playing game at Dragon*Con.
Following on from Langly's trademark use of The Ramones T-Shirts, Dean Haglund was invited to Joey Ramones posthumous birthday concert in New York City.
"Mulder? Where are you?"
This article is a stub. You can help the X-Files Wiki By expanding it.
External Links
Edit