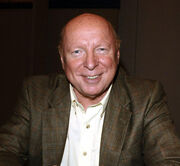 Don Sinclair Davis (born August 4, 1942 in Aurora, Missouri, USA. He passed away on June 29, 2008 in Gibsons, British Columbia, Canada) was an American actor who portrayed William Scully in the X-files television series.
He is known for his roles on the Syfy/Showtime series Stargate SG-1, portraying Major General Hammond.
External links
Edit
Ad blocker interference detected!
Wikia is a free-to-use site that makes money from advertising. We have a modified experience for viewers using ad blockers

Wikia is not accessible if you've made further modifications. Remove the custom ad blocker rule(s) and the page will load as expected.