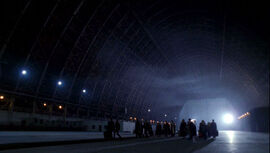 El Rico Air Force Base is a United States Air Force base not far from Washington, D.C. where the Syndicate first made contact with aliens in 1973. They returned to the base in 1999 to begin colonization. However, the faceless aliens ambushed the Syndicate and killed everybody. (TXF: "One Son")
"Mulder? Where are you?"
This article is incomplete. You can help the X-Files Wiki By expanding it.
Background Information
Edit
El Rico is a fictional Air Force base, but it was filmed at the Marine Corps Air Station Tustin in California.
Ad blocker interference detected!
Wikia is a free-to-use site that makes money from advertising. We have a modified experience for viewers using ad blockers

Wikia is not accessible if you've made further modifications. Remove the custom ad blocker rule(s) and the page will load as expected.