Ad blocker interference detected!
Wikia is a free-to-use site that makes money from advertising. We have a modified experience for viewers using ad blockers

Wikia is not accessible if you've made further modifications. Remove the custom ad blocker rule(s) and the page will load as expected.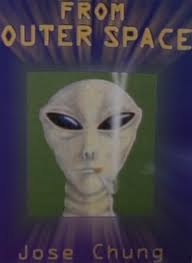 From Outer Space was a fictionalized novel by José Chung dealing with alien abductions and starring FBI agent Reynard Muldrake and his partner, Diana Lesky, characters based on Special Agents Fox Mulder and Dana Scully about their encounter with abductee Harold Lamb and Chrissy Giorgio. (TXF: "José Chung's From Outer Space")
Scully later read to herself from the novel and the book could still be found in 1997. (TXF: "José Chung's From Outer Space"; MM: "Jose Chung's Doomsday Defense")
"Mulder? Where are you?"
This article is incomplete. You can help the X-Files Wiki By expanding it.