You may also be looking for his son, President George W. Bush.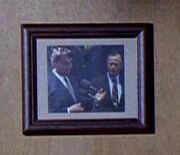 George Bush (born June 12, 1924) was the President of the United States from 1989 to 1993. His Vice President was Dan Quayle.
President Bush had met HTG Industrial Technologies businessman Howard Graves sometime prior to his death in 1993. (TXF: "Shadows")
In 1997, a woman named Cora claimed that the town of Bucksnort had been without a sheriff since the Bush administration. (MM: "Beware of the Dog")
External Link
Edit
Ad blocker interference detected!
Wikia is a free-to-use site that makes money from advertising. We have a modified experience for viewers using ad blockers

Wikia is not accessible if you've made further modifications. Remove the custom ad blocker rule(s) and the page will load as expected.