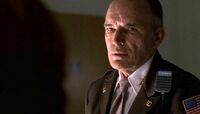 Sheriff Harden (played by Tom Bower) was a sheriff and father of Max Harden. With help from Agents Mulder and Scully, he investigated the brutal murder of Ronald Foster. Although Anthony Reed was the prime suspect, his own son Max was the true killer. He refused to believe this until he discovered the flashlight used to bludgeon Foster in his son's room. Upon this discovery, Max nearly killed his father by a tremendous blow to the abdomen, causing injury and internal bleeding. Harden went to the hospital, but would survive. (TXF: "Rush")
Ad blocker interference detected!
Wikia is a free-to-use site that makes money from advertising. We have a modified experience for viewers using ad blockers

Wikia is not accessible if you've made further modifications. Remove the custom ad blocker rule(s) and the page will load as expected.