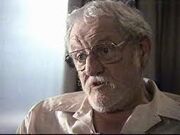 Henry Beckman (26 November 1921 – 17 June 2008) was a Canadian stage, film and television actor. He appeared in well over 100 productions in the United States and Canada, including recurring roles as Commander Paul Richards in the 1954 Flash Gordon space opera television series, Bob Mulligan in the ABC sitcom I'm Dickens, He's Fenster, George Anderson in the television adaptation of Peyton Place, Captain Clancey in the Western comedy-drama Here Come the Brides, and conniving U.S. Army Colonel Douglas Harrigan in McHale's Navy. He also co-starred as Sandy Duncan's landlord in the series Funny Face.
With his wife and fellow actor Cheryl Maxwell, Beckman founded the Dukes Oak Theater in Cooperstown, New York, and served as the theater company's producer.
Beckman was the author of How to Sell your Film Project, a how-to guide on getting independent films produced.
Henry is the father of respected astrophysicist and software engineer Brian Beckman, who currently works at Microsoft.[3]
He died in Barcelona, Spain on 17 June 2008
External Links
Edit
Ad blocker interference detected!
Wikia is a free-to-use site that makes money from advertising. We have a modified experience for viewers using ad blockers

Wikia is not accessible if you've made further modifications. Remove the custom ad blocker rule(s) and the page will load as expected.