In an Arctic research station, Mulder and Scully are threatened by primordial ice worms that cause their hosts to become dangerously paranoid.
ARCTIC ICE CORE PROJECT
ICY CAPE, ALASKA
250 MILES NORTH OF THE ARCTIC CIRCLE
An isolated research station, with a dimly lit window, endures a harsh snowstorm. The compound's interior is in a state of mess, with tell-tale signs that some form of mayhem has taken place here. A thermometer shows the temperature to be below -30°C and a digital clock reads 8:29 a.m.. A
dog
searches through a plastic bucket and then walks past a dead body. There is another body, although only an arm hanging off a desk can be seen.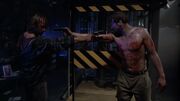 A man appears, wearing only pants, his torso bloody, looking around and carrying a gun. He turns to a communications device and camera, in front of which he is seated. Continuing to look into the camera, he twice repeats the words, "We're not who we are," and then says, "It goes no further than this. It stops right here, right now...." He is suddenly attacked from behind by another man and a struggle commences, ending with both men pointing a gun at each other. Instead of the men shooting one another, however, each man turns his own gun on himself. The station is now again seen from the outside and two shots are heard.
Mulder and Scully are watching older footage of the Arctic Ice Core Project crew cheering, because apparently after a couple of frustrating months, they are proud to report that about half an hour before the transmission was recorded, they surpassed the previous world record for drilling down into an ice sheet. Mulder explains the research the team was doing: basically, studying the structure of Earth's climate back to the dawn of man. The work was apparently a success and no problems of any kind were reported… until a week after the previous transmission, when the next one received. It was the transmission shown in the teaser. After seeing the tape, Scully inquires about what happened there, and Mulder explains that no one has been able to reach the station yet because of bad weather. He jokes that their superiors in the FBI either think they are brilliant or expendable, because Mulder and Scully are the ones who drew the assignment. Skeptical Scully immediately inquires about the possibility of events being a result of cabin fever but Mulder dismisses it, claiming that these were top geophysicists, trained for the work and, among else, thoroughly medically examined, including their psychological make-up. They are supposed to leave for Nome, Alaska today, where they will meet with three scientists familiar with the Ice Core program and then head north to the Icy Cape. National Weather Service predicts three day window before the next Arctic storm.
DOOLITTLE AIRFIELD,
NOME, ALASKA
A man is listening to a football game on headphones. Apparently his team just scored. Scully notes that there's no football on Wednesdays, but the man explains that it's just one of his all-time favourite games he has taped. The man introduces himself as Denny Murphy, professor of geology, UC San Diego, one of the crew. Soon they are joined by the rest of the crew, Dr. DaSilva and Dr. Hodge, the latter showing slight signs of paranoia, demanding of all of the crew to show some sort of identification because he "[wants] to make sure we are who say we are." After each member shows his identification, he asks whether anyone wants to take a guess as to why are they going to the base. Dr. Murphy sees two federal agents, a medical doctor, geologist and a toxicologist as a plausible explanation, whilst Dr. DaSilva makes a remark about Mulder and Scully, being FBI, know more than the rest of the group. A jeep drives in the hangar, and we're introduced to the last member of the team: the pilot, Bear. He himself doesn't react to Dr. DaSilva's request for credentials, saying plainly that if the fact that he's the only pilot willing to fly them to Icy Cape isn't enough of a credential, they can walk. We see the footage of a light airplane flying over snow covered hills.
Act Three
Edit
The team arrives at the compound. The electricity is off and place appears deserted. Dead bodies are seen on the floor. Mulder asks Bear if he can get the power on. Mulder says that before they remove the bodies, the crime scene must be documented. Scully proceeds with photographing. Mulder opens up one of the refrigerators containing drilling samples which Dr. Murphy immediately retrieves to preserve. The team continues to investigate the compound, and generator is restarted. Suddenly the dog seen in the teaser appears and attacks Mulder. The dog is sedated, but during the struggle Bear is bitten. Dr. Hodge immediately dismisses the possibility of rabies, since none of the classic symptoms are present. Yet, black nodules — swollen lymph nodes — are found, which Dr. DaSilva identifies as possible symptoms of bubonic plague. The dog also has a skin irritation around his neck, as if he was scratching off his own hair. While looking at the trauma, there's a sudden movement of what is apparently a foreign object under the dog's skin. In the bathroom, Bear is bandaging his wound, when suddenly he is struck by a sharp pain under his right armpit. After looking at the mirror, he discovers he now has the same black nodules as the dog had; ergo, he is infected.
After finishing the autopsies, Scully states that it's obvious members of science crew killed each other. Bear makes an inquiry whether black nodules were found on the autopsied bodies, to which Scully responds in the negative. Bear, knowing he has the nodules queries further whether this means that nodules had nothing to do with the condition which caused the crew to kill each other. Dr Hodge enters the room saying that he wouldn't rule it out. He re-examined the dog and nodules have disappeared, which could mean that the spots are symptoms of some disease at an early stage. Bear appears more and more anxious after hearing this. Mulder and Scully continue collecting evidence, former finding another piece of paper scribbled with "We are not who we are" sentence. He contacts Denny, the geologist, regarding some satellite remote sensing photos. Denny identifies the photograph as Icy Cape area, that it approximates the depth of the ice sheet to be about three thousand meters thick. Mulder shows him another piece of data he has found, which shows that the research team discovered that the depth of the ice sheet was twice that depth. The numbers appear to indicate that the team was digging inside a meteor crater. In the other lab, Dr. Hodge and Scully appear to be arguing about something when Mulder enters. Scully has apparently discovered parts of ammonium dioxide in one of the diseased men's blood. Hodge claims this impossible because ammonia would vaporise at human temperatures. Dr. DaSilva reports that she has checked all the ventilation machinery and found no evidence of any toxins. Dr. Murphy, on the other hand, has found something in the ice samples, and apparently that's not all there is. He has found high ratio of ammonia to water in the ice core. Earths atmosphere could never produce such amounts, even quarter of a million years ago (unless a foreign object was introduced into that environment, Mulder comments). Murphy tells them to look in the microscope and Mulder, being the first one, sees a micro-organism of some sort. After Scully takes a look at it she concludes that the same thing is present in one of the diseased blood. She hypothesises that it's a larval stage of a larger organism. Now Bear appears again, more and more agitated, saying Scully's autopsy clearly showed those men killed themselves, that there's no need to chase around some bug and that they should get the hell away from there. Mulder refuses, saying that they might be facing a possible infective organism and that proper quarantine procedures should be followed. They can't risk bringing back the plague. Bear continues by saying that yes, maybe the deceased rescue crew came down with something, but they haven't and he ain't waiting around until they do. He proceeds to pick up his gear. After a brief discussion between Dr. Hodge and Scully, Dr. DaSilva notes that dog did bite Bear. Scully then suggests that the only resolution is to conduct a medical test to determine whether anyone in the crew is infected, and then proceed. Bear refuses the test and proceeds to pack his stuff in order to fly back to Nome. In his absence the team takes a vote: Bear must be forced to take his test. After his return Mulder, now holding a gun, explains him the crew's decision. He appears to comply, but instead uses his stool sample flask to hit Mulder and attempts to escape. He is restrained and the team sees the same movement under the skin previously seen in the dog. Dr. Hodge decides to cut the parasite out, because now, it, being exposed, attempts to kill the host. The parasite is removed and stored while Mulder contacts the airport and reports that they have serious biological hazard, requesting immediate air pick-up and quarantine procedure. Yet, the station is currently impossible to reach because of an unpredicted snowstorm. He returns and asks if Bear is in any condition to fly, because they have a very short time frame to evacuate the base, but Scully informs him that Bear died after the procedure. The parasite releases a toxin into its victim if surgical removal is attempted.
Dr. Hodge observes that the organism is similar to a tapeworm as it has a skull equipped with suckers and hooks, but otherwise completely unfamiliar to any organism he knows of. He is also unsure of the means of infection: it could be anything, body fluids, touch, air... Scully returns after re-examining the bodies reporting that she found the worm in every single one of it, but only one still alive. The difference is that the worms were not attached to spinal column as seen previously, but were in hypothalamus, deep in the human brain. Hodge speculates that since the hypothalamus produces the neurotransmitter acetylcholine which can produce violent, irrational behaviour there might be a connection with what happened to the previous team.
Scully is re-examining the bodies in case she missed anything. Mulder enters the morgue and suggests she get some sleep since they are all wired and hypersensitive and it wouldn't be a bad idea to give themselves a fresh start. Scully on the other hand says she doesn't want to waste a minute until she finds out how to kill the parasite. Mulder disagrees with killing it, since it could be a living proof of a theory that alternative life design can evolve in an ammonia environment (say other planets) at extremely low temperatures. On the other hand, Scully is concerned with the possibility of the parasite reaching densely settled areas or cause them the same fate as with the previous team. In another room, DaSilva and Hodge wonder what the argument is about. Hodge is sure that Mulder and Scully, being government agents, knew more about the situation than they revealed to the rest of the team. He also mentions that Bear's infected blood did get on Scully, yet, as Dr. DaSilva notes, it also got on him. They go to confront the agents and meet them just as Scully is suggesting that all the bodies and the worms should be taken out and incinerated in order to contain the problem. Hodge notes that Scully seems a bit on edge, almost suggesting that she might be another host. She violently reacts but Mulder prevents the argument from going further. Fear and tension is already running high in the group, and they should all get some sleep. Hodge agrees, but demands that each member be checked for spots. All appear OK and proceed into their quarters, yet tension is still present. As Mulder says his good night to Scully, he mentions that the spots on dog did disappear. Scully enters her room and blocks the door with a heavy desk, Dr. Murphy attempts to calm himself with one of his taped football games, Hodge is making a list of possible infected people (and in his usual paranoid approach, finds that each could be exposed), DaSilva is lying in bed yet also showing signs of anxiety and Mulder is seen sitting on his bed, putting his gun on a desk.
Act Seven
Edit
Mulder suddenly awakes, apparently after having a nightmare. He hears a door open and footsteps that follow. He dresses and picks up his gun in order to investigate. All of the doors are closed except for Dr. Murphy's, whose room is empty, only his Walkman laying on the bed. Mulder continues investigating and notices blood dripping from one of the freezing units in the main science room, in which he finds Murphy's body, his throat being cut. The rest of the team appear and Hodge immediately assumes Mulder killed him. He denies claiming he didn't have any of the symptoms when Hodge examined him. He also refuses Scully's request for Hodge to give him a blood test, fearing he might be the one exposed and could doctor the evidence. He also refuses to show his back, because, being suspicious that either one or all of them could be infected, he isn't going to turn his back on anyone of them. Hodge attempts to grab some metal stick (as a weapon) but stops after Mulder points a gun at him, yet the next instant, he has Scully's gun pointed on himself. He backs down and allows the team to contain him in a locked room. Before Scully locks him in, he warns her he'll be safer in here than her outside.
Act Eight
Edit
Scully enters the main lab, finding both DaSilva and Hodge asleep at their desks. She attempts to check DaSilva's neck but Hodge stops her. He also points out that Scully is the only one with the gun and that the rest of
them don't stand a chance in case she is infected. She removes the clips from both her and Mulder's gun and throws them outside. Scully attempts to contact the airfield but the com-system is down due to the storm outside. DaSilva and Hodge continue to work on the parasites. By accident, DaSilva mistakenly puts an infected blood sample on another infected sample instead of an uninfected as Hodge requested. They both burst in anger, but Scully takes a look at the combined samples and discovers that both parasites have killed each other. After placing two living,

mature worms they hold in jars filled with ammoniac solution next to one another, they also see aggressive behaviour between them. One parasite won't tolerate another in a host and does to another same thing he does to a human if removal is attempted. Thus by introducing a parasite in an already infected host, they can kill both of them, and cure the infected. The test on the infected dog proves them right. They now have one more parasite remaining, and thus decide to cure Mulder. Yet when Scully examines Mulder, she finds no sign of parasite on his neck. Mulder examines Scully and also finds her uninfected, so now it's either Hodge or DaSilva who is the host. Hodge doesn't believe Scully and after a brief struggle, Scully is locked inside the holding area whilst he and DaSilva continue with the procedure on Mulder. It is at the last instant, just before DaSilva introduces the worm that Hodge sees movement on

her neck, thus exposing her as the one who was infected all along. She flees and grabs one of the guns of the previous team from an evidence bag, but is overpowered by Mulder, while Hodge introduces the worm in her.
Conclusion
Edit
Mulder, Scully and Hodge all stand on the strip of the Doolittle Airport in Nome, whilst DaSilva is taken i

nto an ambulance in a biohazard suit. They have all had blood tests and have been proven negative to infection. Mulder claims that he is going back to the place, now prepared and with proper equipment, in order to procure a worm sample (to give science supporting evidence of alternative life design, presented in the sub zero temperatures), but learns from Hodge that the moment they were evacuated from the Ice Cape station, the ent

ire place was torched, either by military or CDC, so there's nothing left for him to find.
Background Information
Edit
Some fans have speculated that the Black Oil originated from the worm, because in one scene it let off this sticky "poison" that resembled the Black Oil, and it has similar effects (making someone act differently then usual). This has not been confirmed or refuted.
This episode borrows heavily from John Carpenter's movie, The Thing, and the short story on which it was based, Who Goes There? by John W. Campbell. Those stories involve a team of Antarctic researchers, isolated from the rest of the world, who are infiltrated by a malevolent alien. The being devours other living things before it assumes their memories and appearance. The researchers try to hunt down the alien befor
e it reaches the rest of the world.
According to co-writer Glen Morgan, his initial concept for this episode was influenced by an article in Science News about "these guys who dug something 250,000 years old out of the ice".
involved.
This was the first X-Files episode that Makeup Effects Artist Toby Lindala worked on. He was extremely nervous when a prosthetic device he was using to create the effect of the alien worm in this episode started to tear.
One scene involving the alien worm was intentionally long, as the producers had anticipated that Fox's standards and practices department would edit the sequence. However, the production personnel's belief was incorrect and the scene was aired in its entirety of approximately four seconds.
Near the end, Scully virtually repeats a line said by John Richter earlier in the episode. Richter says, "It stops right here, right now," but Scully changes the line to, "It all stops right here, right now". When the line is repeated, it is said in a completely different context.
Guest Cast
Edit
Guest Starring
Edit
Co-Starring
Edit
Uncredited
Edit
References
Edit