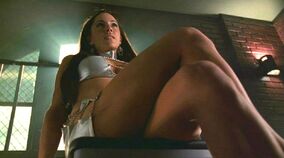 Jade Blue Afterglow (played by Krista Allen) was a stripper who was paid to be digitally scanned by Phoebe and used as a model for Maitreya. She was interviewed by Mulder and Scully concerning the death of Retro, but it was obvious that she had nothing to do with it. She claimed that "Jade Blue Afterglow" was indeed her real name, but Scully doubted this. (TXF: "First Person Shooter")
Ad blocker interference detected!
Wikia is a free-to-use site that makes money from advertising. We have a modified experience for viewers using ad blockers

Wikia is not accessible if you've made further modifications. Remove the custom ad blocker rule(s) and the page will load as expected.