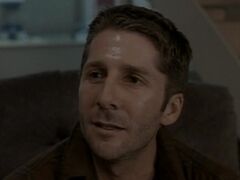 Jason Ludwig was a robotic engineer who became trapped in Mount Avalon and infected by the Silicon based parasite, alongside his partners Peter Tanaka and Jessie O'Neil. He attacked Mulder when he entered the CVR team office. Later, he was shot and killed by Daniel Trepkos, with a flare gun. (TXF: "Firewalker")
Jason Ludwig was portrayed by Leland Orser.
Ad blocker interference detected!
Wikia is a free-to-use site that makes money from advertising. We have a modified experience for viewers using ad blockers

Wikia is not accessible if you've made further modifications. Remove the custom ad blocker rule(s) and the page will load as expected.