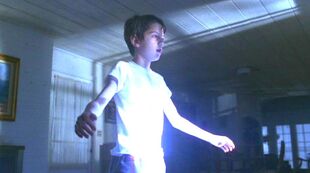 Jason McPeck (played by Cory Parravano) was the son of Irene McPeck and Cameron McPeck and lived in Goochland, Virginia. He was diagnosed with cancer but his parents denied him any medical treatment because of their strong religious belief that God would heal him. This became a local media sensation, bringing throngs of protesters to the McPeck home. During one night, a blinding light appeared outside of McPeck's window, which he believed to be that of an angel. A group of men in suits approached him and he was "miraculously" healed the following morning. Agent Scully met McPeck and his family. The only sign of his cure was a pinch mark on the back of his neck where an implant had been inserted by agents of the Cigarette Smoking Man. (TXF: "En Ami")
Ad blocker interference detected!
Wikia is a free-to-use site that makes money from advertising. We have a modified experience for viewers using ad blockers

Wikia is not accessible if you've made further modifications. Remove the custom ad blocker rule(s) and the page will load as expected.