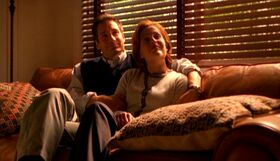 Laura Petrie (to be pronounced "pett-rie") was an alias used by Dana Scully. She assumed the name while investigating The Falls at Arcadia with Fox Mulder, who meanwhile took the name Rob Petrie. According to the back-story that they established, Laura had met Rob at a UFO convention and was a fan of "new age stuff," like crystals and mood rings. Supposedly, Laura's nickname for Rob was "poopy-head."(TXF: "Arcadia")
This name was actually taken from The Dick Van Dyke Show, starring Mary Tyler Moore as Laura Petrie (pronounced Pet-Tree).
Ad blocker interference detected!
Wikia is a free-to-use site that makes money from advertising. We have a modified experience for viewers using ad blockers

Wikia is not accessible if you've made further modifications. Remove the custom ad blocker rule(s) and the page will load as expected.