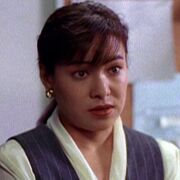 Leza Atsumi was an agent in the Federal Bureau of Investigation. She worked at the FBI Regional Headquarters in Sioux City, Iowa. (TXF: "Conduit")
Background Information
Edit
Leza Atsumi was played by Akiko Morison.
The character's first name is never established in the fictional events of "Conduit" but is provided in the episode's credits.
Leza Atsumi is described, in script sources, as holding the rank of Special Agent. In the episode's final version, however, she is referred to solely as an Agent.
Ad blocker interference detected!
Wikia is a free-to-use site that makes money from advertising. We have a modified experience for viewers using ad blockers

Wikia is not accessible if you've made further modifications. Remove the custom ad blocker rule(s) and the page will load as expected.