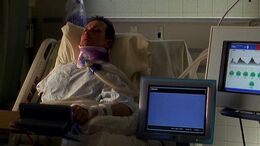 A Lightwriter is a dual-display communication aid for use by a patient with severe paralysis. The device incorporates a keyboard, connected to a small finger-clicker for the paralyzed patient. Two display screens are included in the machine; one of these is a narrow display that is built into the keyboard, above it, and faces the person using the device, while the other is a standalone monitor that faces the message recipient. The narrow screen includes an array of letters, punctuation marks and pictorial controls.
In 2001, a Lightwriter machine was used by FBI Special Agent John Doggett, after he was shot by Erwin Timothy Lukesh subsequent to the arrival of both men from a parallel universe from which Doggett had originated. The Lightwriter was placed next to Doggett's bed at some point after he regained consciousness and demonstrated that he could use his finger to convey messages in morse code. He used the Lightwriter during conversations with his FBI partner, Monica Reyes, the alternate version of whom had been killed by Lukesh in the parallel universe, and their discussions included Agent Reyes' realization that the injured Doggett had come from a parallel universe. (TXF: "4-D")
Messages on John Doggett's Lightwriter
Edit
ALIVE
NO YOU HOW OK?
YOUR THROAT CUT
LUKESH KILLED YOU
TRIED KILL ME

1ST TIME EVER
HOPED FOR A
LITTLE PRICK
Doggett's jestful comment to Reyes after a doctor had been examining him for signs that he was regaining the ability to feel touch
HOWS CASE?
POLISH SAUSAGE
BEST IN CITY
Doggett's response after Reyes asked him if he was familiar with a renowned hot dog stand on M Street
WE BOTH HAD TWINS
WHICH WE DONT
TOO MUCH
STAR TREK
WOW

MISSED A SPOT
Doggett's joking reaction to being shaved by Reyes
BEEN THINKING
SOUNDS CRAZY
BUT THINK
YOURE RIGHT
2 DOGGETTS CANT
BE IN 1 WORLD
U CAN FIX
PULL THE PLUG
I GO YOUR
DOGGETT COMES
BACK
CMON YOUR THEORY
SOUND
DO YOU BELIEVE?
PROVE IT
Ad blocker interference detected!
Wikia is a free-to-use site that makes money from advertising. We have a modified experience for viewers using ad blockers

Wikia is not accessible if you've made further modifications. Remove the custom ad blocker rule(s) and the page will load as expected.