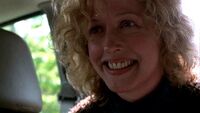 Lisa Underwood (played by Kim Greist) was the wife of Doug Underwood and mother of Billy and Josh. In 1990, Billy was kidnapped practically right before her eyes, but returned in 2000 without having aged a single day. Despite her family's misgivings, Lisa was thrilled and made little effort to hide her greater affection for Billy than Josh. She was also against further involvement with Agents Scully and Doggett in speaking with Billy. Ultimately, Lisa was able to achieve peace when the agents discovered that Cal Jeppy was responsible for their son's death years prior and that the reappearance was some sort of apparition. (TXF: "Invocation")
Ad blocker interference detected!
Wikia is a free-to-use site that makes money from advertising. We have a modified experience for viewers using ad blockers

Wikia is not accessible if you've made further modifications. Remove the custom ad blocker rule(s) and the page will load as expected.