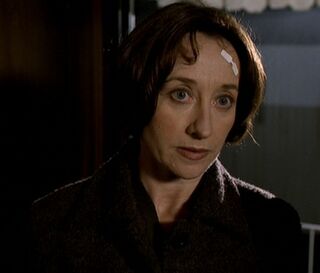 Dr. de Vico, aka "Lois," was a woman that Adam Burgess believed was his wife. In reality, she was the researcher who was testing a virtual reality psycho therapy technique at the Hobbes Research Institute. The goal was to input a different life into the brain to alter the subject's behavior. Their normal personality would be replaced with a new personality through stimuli introduced into the brain.
"Lois" showed up looking for Adam Burgess, saying only that she was his wife and had been looking for him after a car accident.
It is unclear whether Lois is actually her real first name or a false one she uses but her true name is definitely Dr. de Vico in any case.
Although she claimed that her therapy was entirely legal and completely legitimate, this was not the case. Her appearing in the virtual world as Adam Burgess's wife, through the use of her own neural interface, was clearly about her acting out her sexual fantasies. Her obsession with Adam Burgess was strong enough to go and find him herself. In the end, Adam Burgess abandoned her, seeking his real wife and real life in the real world. (The Lone Gunmen: Madam, I'm Adam)
Ad blocker interference detected!
Wikia is a free-to-use site that makes money from advertising. We have a modified experience for viewers using ad blockers

Wikia is not accessible if you've made further modifications. Remove the custom ad blocker rule(s) and the page will load as expected.