Ad blocker interference detected!
Wikia is a free-to-use site that makes money from advertising. We have a modified experience for viewers using ad blockers

Wikia is not accessible if you've made further modifications. Remove the custom ad blocker rule(s) and the page will load as expected.
DVD Information:
Number of Episodes:
23
Format:
NTSC
PAL
Running Time (Approx):
16 Hrs 39 Mins
List Price:
$59.98 (US)
$54.98 (Canada)
£39.99 (UK)
Number of Discs:
6
Region 1 Release Date:
January 4, 2005
Region 2 Release Date:
September 27, 2004
"The second season of Chris Carter's popular series, which followed in the wake of his smash hit THE X-FILES saw a number of changes; the themes delved more deeply into the realm of the spiritual and supernatural, while adopting a comedic aspect as well. Frank Black (Lance Henrikson), the hero of this dark drama whose psychic endowments allow him to solve mysteries by getting inside the minds of criminals, finds himself suffering a crisis of faith in the Millennium Group, the enigmatic government agency for whom he works. As he learns more about them, he begins to take matters into his own hands, and mounts aninvestigation the Group on his own, while simultaneously coming to a greater understanding of his psychic abilities. Striking a pitch-perfect balance of honesty, feeling, and experimentation, the show was a visceral and emotional challenge to audiences; the tragedy that struck at the close of the second season was shocking and almost breathtaking in the unforeseen direction it took."
— From The Back Cover of the DVD Boxset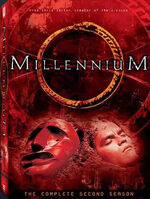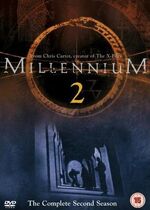 | Disc | Episode |
| --- | --- |
| 1 | |
| 2 | |
| 3 | |
| 4 | |
| 5 | |
| 6 | Special Features |
Special Features
Edit
Special Features:
Audio commentary for "The Hand of Saint Sebastian" by director Thomas J. Wright
Audio commentary for "The Mikado" by writer Michael R. Perry
Featurette - "The Turn of the Tide: The Making of Season 2"
Featurette - "Academy Group: Victimology"