Ad blocker interference detected!
Wikia is a free-to-use site that makes money from advertising. We have a modified experience for viewers using ad blockers

Wikia is not accessible if you've made further modifications. Remove the custom ad blocker rule(s) and the page will load as expected.
DVD Information:
Number of Episodes:
22
Format:
NTSC
PAL
Running Time (Approx):
16 Hrs 39 Mins
List Price:
$59.98 (US)
$89.98 (Canada)
£39.99 (UK)
Number of Discs:
6
Region 1 Release Date:
September 6, 2005
Region 2 Release Date:
October 25, 2004
"From X-Files Producer Chris Carter comes the final chapter of Millennium. With his unique ability to see into the minds of killers, profiler Frank Black left the FBI to join the Millennium Group, a covert team of ex-law enforcement experts battling the growing forces of evil in the world...or so he thought. For when a deadly viral outbreak swept across the country infecting thousands of people and killing his wife, Frank discovered it was all part of a secret plot engineered by the Group. Now, disillusioned and outraged, Frank returns to the FBI determined to expose the Millennium Group. But protecting his job and his daughter, who Frank fears shares his gift, is no easy task when there are group members who believe that if he is not on their side, there is no reason he should be allowed to keep using his gift against them."
— From The Back Cover of the DVD Boxset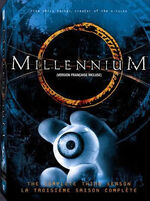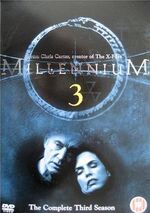 | Disc | Episode |
| --- | --- |
| 1 | |
| 2 | |
| 3 | |
| 4 | |
| 5 | |
| 6 | Special Features |
Special Features
Edit
Special Features:
"End Game: Making Millennium Season 3" documentary
"Between the Lines" featurette
Audio commentary by Lance Henriksen and Klea Scott on "The Innocents"
Audio commentary by director Thomas J. Wright on "Collateral Damage"
The X-Files episode "Millennium"