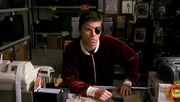 Maniac Marvin was an electronics store owner who provided one of the first major clues when the Lone Gunmen were trying to figure out Adam Burgess' true identity. When Burgess saw a commercial featuring Maniac Marvin when it was shown on television, he immediately attacked Richard Langly, suggesting Marvin was somehow very important to him.
John Fitzgerald Byers and Jimmy Bond went to see Maniac Marvin, leaving Burgess outside with Langly. He had an eye patch and explained he used a glass eye during the commercials. The man completely denied knowing Burgess but pulled out a photograph of Burgess and a dwarf woman, as soon as Byers and Bond went to stop a newly berserk Burgess from attacking Langly.
Soon after this encounter, Maniac Marvin went to visit the dwarf woman in the picture, one Sadie Muckle. Apparently, Marvin had been trying to convince her to marry him, despite his piggish nature (which was kind of why she liked him).
When Burgess arrived at Sadie's trailer with the four Lone Gunmen and Yves Adele Harlow, he went into an uncontrollable rage when he saw Maniac Marvin's Cadillac and its vanity plate, Maniac M. Bursting in on the very busy Marvin and Sadie, Burgess swore he would put out the other eye. At this point, it became clear Adam Burgess was actually Sadie Muckle's missing husband, Charlie, who had been brought into a virtual reality program to avoid jail time. Apparently, Maniac Marvin had not dropped the charges against Charlie for his eye being put out and had lied to Sadie about what happened to Charlie, claiming he had just abandoned her.
With Charlie out of the picture again though, Marvin pursued marriage, despite Sadie wanting Charlie back. Charlie Muckle stole Sadie at the altar (a wrestling ring in this case) from Maniac Marvin Copper in the end, though. (TLG: "Madam, I'm Adam")
Ad blocker interference detected!
Wikia is a free-to-use site that makes money from advertising. We have a modified experience for viewers using ad blockers

Wikia is not accessible if you've made further modifications. Remove the custom ad blocker rule(s) and the page will load as expected.