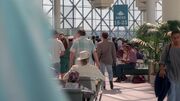 Miami is a major city in the U.S. state of Florida.
It is home to Miami International Airport and has a newspaper called the Miami Post Tribune. (TXF: "Little Green Men").
Melvin Frohike once lived here, and competed in Tango competitions under the name of "El Lobo".
The Lone Gunmen travel to Miami when following Yves Adele Harlow, who herself is tracking down smugglers attempting to sell blueprints for an advanced missile system. (TLG: "Tango de los Pistoleros")
Appearances
Edit
External links
Edit
Ad blocker interference detected!
Wikia is a free-to-use site that makes money from advertising. We have a modified experience for viewers using ad blockers

Wikia is not accessible if you've made further modifications. Remove the custom ad blocker rule(s) and the page will load as expected.