DVD Information:
Number of Episodes:
22
Format:
NTSC
PAL
Running Time (Approx):
15 Hrs 46 Mins
List Price:
$59.98 (US)
$54.98 (Canada)
£39.99 (UK)
Number of Discs:
6
Region 1 Release Date:
July 20, 2004
Region 2 Release Date:
July 12, 2004
"Retired serial-profiler Frank Black has moved his family to Seattle to escape the violence and horror he dealt with while working for the FBI in Washington, D.C. Although his uncanny and often unsettling ability to see into the twisted minds of serial killers has caused him much inner torment, Black knows his "gift" can still be used to help protect and save others. For that reason he has joined the mysterious Millennium Group, a team of underground ex-law enforcement experts dedicated to fighting against the ever-growing forces of evil and darkness in the world."
— From The Back Cover of the DVD Boxset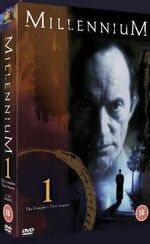 Disc

Episode

1

2
3
4
5
6

"Marantha"
Special Features
Special Features
Edit
Special Features:
Audio commentary for "Pilot" by Chris Carter
Audio commentary for "Gehenna" by director David Nutter
Documentary - "Order in Chaos, Making Millennium Season One"
Featurette - "Chasing the Dragon: a Conversation with the Academy Group"
Featurette - "Creating the Logo and Title Sequence"
Eight TV Spots (for the pilot episode)
"Inside Look" at I, Robot
"Inside Look" at Alien Versus Predator
Ad blocker interference detected!
Wikia is a free-to-use site that makes money from advertising. We have a modified experience for viewers using ad blockers

Wikia is not accessible if you've made further modifications. Remove the custom ad blocker rule(s) and the page will load as expected.