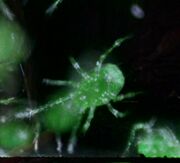 A mite is a type of insect that includes the common dust mite and a dangerous kind of biolumniscent wood mite that killed several people in Olympic National Forest in 1934 and 1994. (TXF: "The Pine Bluff Variant", "Darkness Falls")
"Mulder? Where are you?"
This article is incomplete. You can help the X-Files Wiki By expanding it.