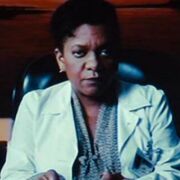 The On Screen Doctor was a woman who was consulted by Our Lady of Sorrows Hospital in 2008, regarding boy patient Christian Fearon.
The On Screen Doctor spoke to Dr. Dana Scully, who worked at the hospital, during a video conference in that year, the two women never having met before and the doctor on the video screen being initially uncertain of Dr. Scully's name. The doctor claimed to have gone over several charts sent from the hospital and had, according to her, consulted another pediatric neurologist who worked with her, in the same place where she worked.
When the doctor announced that they were both alarmed by two things, Scully guessed that the On Screen Doctor was referring to a deficiency in Christian's lipid metabolism and his severely diminished enzyme output. The On Screen Doctor admitted that Scully's suspicions were exactly right and, after Scully noted that both symptoms indicated lysosomal storage illness, the doctor on the video screen asked whether the doctor she was currently speaking to, Scully, was Christian's primary physician. After Scully introduced herself by name to the On Screen Doctor, the doctor further asked if she had tested Christian's lysosome function, to which Scully replied indirectly, stating that she thought all of her test results were already in the doctor's possession.
In response to Scully admitting that she feared Christian's condition was a type two degenerative disease similar to Sandhoff disease and that his enzymes were not clearing his lipids from his brain, causing atrophy, the On Screen Doctor advised Scully that, if she suspected Christian had Sandhoff disease, she should test his levels of hexosaminidase. However, Scully admitted that she had already done that and was looking for a course of treatment. The On Screen Doctor abruptly replied that there was no such treatment for that particular disease and imagined that, if there were, Scully would tell her about it. (The X-Files: I Want to Believe)
The On Screen Doctor was played by Lorena Gale. She is referred to as the "On Screen Doctor" in the film's closing credits, only.