Nurse Owens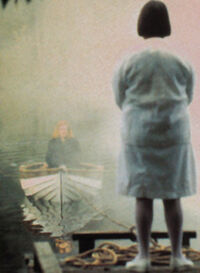 (played by Nicola Cavendish) was a nurse who looked after Agent
Dana Scully
 at the hospital when she was admitted in a comatose state after being abducted by
Duane Barry
(
TXF
:
Ascension
).
Nurse Owens encouraged the agent to keep holding onto life, appearing to Scully in many symbolic visions, in particular standing at the dock where a small boat Scully was sitting in was moored and eventually detached. Later, when Scully awoke from her unconscious state, she asked to thank Owens for her care, but she discovered there was no Nurse Owens at the hospital, leaving her identity a mystery.
Appearance
Edit
Ad blocker interference detected!
Wikia is a free-to-use site that makes money from advertising. We have a modified experience for viewers using ad blockers

Wikia is not accessible if you've made further modifications. Remove the custom ad blocker rule(s) and the page will load as expected.