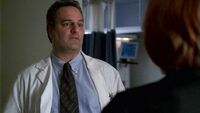 Paul Kopeikan (played by Stephen Hornyak) was a doctor who worked at the Washington National Hospital in Washington, D.C. Dana Scully met him while visiting one of his patients, Dr. Daniel Waterston, with whom Scully had had an affair. Kopeikan was initially wary of Scully's input as he was not aware of her medical background until Waterston corroborated her story. (TXF: "all things")
Ad blocker interference detected!
Wikia is a free-to-use site that makes money from advertising. We have a modified experience for viewers using ad blockers

Wikia is not accessible if you've made further modifications. Remove the custom ad blocker rule(s) and the page will load as expected.