Ad blocker interference detected!
Wikia is a free-to-use site that makes money from advertising. We have a modified experience for viewers using ad blockers

Wikia is not accessible if you've made further modifications. Remove the custom ad blocker rule(s) and the page will load as expected.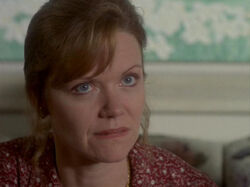 Penny Northern
(played by
Gillian Barber
) was a member of the
MUFON
(Mutual UFO Network) group that Agent
Dana Scully
met in 1995 while conducting a murder investigation in Allentown, Pennsylvania. When Scully knocked at
Betsy Hagopian
's door -a name found among the documents related to the victim- she was recognized by the MUFON women who claimed she was "one of them," an
abductee
. Penny Northern informed Scully about the abduction's details and about Betsy Hagopian who was dying of cancer in a nearby hospital. She also underlined the fact that all women abductees were doomed because of the procedures performed on them.
Scully met Penny Northern again in 1997 when she was diagnosed with cancer herself and was informed by hybrid MUFON member Kurt Crawford that all the chapter's women had died within the past year, except ailing Penny Northern. Penny told Scully she was treated by Doctor Kevin Scanlon and comforted her while Scully was undergoing treatment at Bethlehem Medical Centre. The woman recalled she had been allowed by Scully's side after the abduction's procedures, surprised by this attitude, claiming that human compassion was unusual on the abductors' part. Penny Northern died shortly after these incidents, when it was revealed that Doctor Scanlon was not trustworthy and was possibly responsible for his patients' deaths.
Appearances
Edit