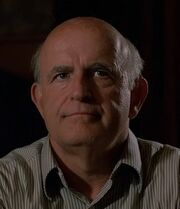 Peter Lawrence Boyle (October 18, 1935 - December 12, 2006) was an Emmy Award-winning actor noted for his portrayal of "Frank Barone" in the sitcom Everybody Loves Raymond and film roles in Young Hercules and Taxi Driver.
In 1996, he won his only Emmy (although he was nominated nine other times) for his portrayal of Clyde Bruckman on The X-Files episode "Clyde Bruckman's Final Repose."
On December 12, 2006, he passed away in St. Vincent's Hospital in New York City from multiple myeloma and heart disease. He is survived by his wife Loraine and two daughters.
Peter Boyle and his wife were close friends with John Lennon and Yoko Ono, and he was the best man at their wedding.
External links
Edit