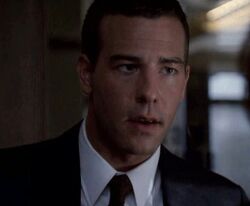 Peyton Ritter (played by Richard Ruccolo) was an FBI agent out of New York City who investigated a series of deaths related to photographs taken by Alfred Fellig.
Involvement with Dana Scully and Alfred Fellig
Dana Scully was assigned by Alvin Kersh to work with Ritter, much to the chagrin of Fox Mulder. Scully's unorthodox methods, blamed by Ritter on Mulder's influence, lead to friction between the agents. Scully eventually spoke with Fellig, but Ritter's overreaction and zeal for arresting him led to his shooting Scully. Fellig, who claimed to have cheated death, seemingly "swapped" with Scully, absorbing the brunt of her injuries and dying. Scully was soon fully recovered. (TXF: "Tithonus")
Ad blocker interference detected!
Wikia is a free-to-use site that makes money from advertising. We have a modified experience for viewers using ad blockers

Wikia is not accessible if you've made further modifications. Remove the custom ad blocker rule(s) and the page will load as expected.