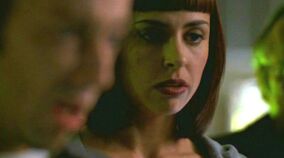 Phoebe (played by Constance Zimmer) was a computer programmer who worked with Ivan Martinez at FPS. She created the character of Maitreya, having paid Jade Blue Afterglow for an electronic body scan. She called Maitreya her "goddess" as a rebellion against the male domination over the world of computer games. Maitreya was seemingly harmless until she killed Retro. Phoebe helped rescue Mulder and Scully from the game and seemingly destroyed it. (TXF: "First Person Shooter")
Ad blocker interference detected!
Wikia is a free-to-use site that makes money from advertising. We have a modified experience for viewers using ad blockers

Wikia is not accessible if you've made further modifications. Remove the custom ad blocker rule(s) and the page will load as expected.