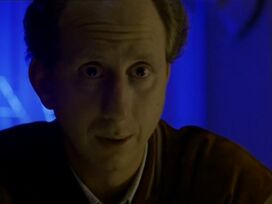 The Puppet was a serial killer with psychic abilities. His name was never given, but Clyde Bruckman called him a "puppet" because he deduced that the killer believed himself to be a puppet, i.e. a man with no control over his life. He also deduced that the puppet was impotent. The puppet murdered several fortune tellers in the Minneapolis/St. Paul area, including Madame Zelma and Claude Dukenfield. The puppet worked at Le Dampino Hotel, where he confronted Bruckman and died after being shot by Agent Scully while attempting to kill Mulder. He is played by Stuart Charno.
| | |
| --- | --- |
|  ! | This article is a stub and is incomplete. You can help the X-Files Wiki by expanding it. |
Appearances
Ad blocker interference detected!
Wikia is a free-to-use site that makes money from advertising. We have a modified experience for viewers using ad blockers

Wikia is not accessible if you've made further modifications. Remove the custom ad blocker rule(s) and the page will load as expected.