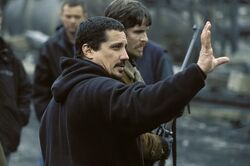 Rob Bowman (born on May 15, 1960 in Wichita Falls, Texas, USA) worked as a director for The X-Files. He initially gained recognition by directing 13 episodes of Star Trek: The Next Generation between 1987 and 1990.
In 1994, Bowman directed his first episode of The X-Files, entitled "Gender Bender". He continued to work on the series and directed The X-Files Movie in 1998. In 2000, he left the series after having worked on 73 episodes as either director, producer or both.  With 33 credited episodes, he was the second-most prolific director on the show, the first being Kim Manners.
Director Credits
Edit
Producer Credits
Edit
External Links
Edit
Ad blocker interference detected!
Wikia is a free-to-use site that makes money from advertising. We have a modified experience for viewers using ad blockers

Wikia is not accessible if you've made further modifications. Remove the custom ad blocker rule(s) and the page will load as expected.