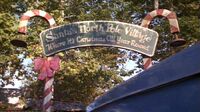 Santa's North Pole Village was a Christmas-themed park in California where it was "Christmas all year long!" The park was operated by Ed Truelove, who would dress as Santa Claus. Mulder and Scully found the park with Walter Skinner while investigating the disappearance of Amber Lynn LaPierre. While they did not find LaPierre, they discovered the graves of twenty-four children murdered by Truelove. (TXF: "Sein Und Zeit")
Ad blocker interference detected!
Wikia is a free-to-use site that makes money from advertising. We have a modified experience for viewers using ad blockers

Wikia is not accessible if you've made further modifications. Remove the custom ad blocker rule(s) and the page will load as expected.