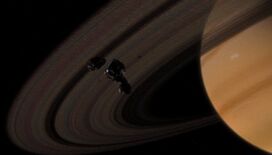 Saturn is a ringed planet in the solar system. Asteroids would sometimes pass Saturn, or disintegrate and crumble into inconsequential rubble near the planet. (MM: "The Beginning & the End")
Saturn is referred to in the title of the Season 3 Millennium episode "Saturn Dreaming of Mercury". However, there is no references to Mercury or Saturn in the episode itself.
Ad blocker interference detected!
Wikia is a free-to-use site that makes money from advertising. We have a modified experience for viewers using ad blockers

Wikia is not accessible if you've made further modifications. Remove the custom ad blocker rule(s) and the page will load as expected.