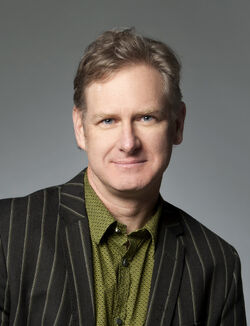 Scott Bellis is a Canadian actor born in Vancouver, British Columbia, where he has been a working actor for over 25 years. He studied at Studio 58, Langara College, and has worked in a variety of theatrical disciplines including mask, sketch comedy, new play development, and theatre for young audiences, but the mainstay of his career has been classical works. He is a founding member and Artistic Associate at Bard on the Beach Shakespeare Festival along with Bruce Harwood (John Fitzgerald Byers). Scott Bellis has been nominated fifteen times for Jessie Richardson awards for his acting work, and was a recipient in 2007 and 2010. His career has encompassed over 80 productions and over 3000 performances. He has participated in many television series including the The Outer Limits, Smallville and The Dead Zone, television movies and feature films such as Little Women, Timecop and Antitrust. His role in the X-Files series was that of the alien abductee Max Fenig in the episodes "Fallen Angel", "Tempus Fugit" and "Max".
External Link
Edit
Ad blocker interference detected!
Wikia is a free-to-use site that makes money from advertising. We have a modified experience for viewers using ad blockers

Wikia is not accessible if you've made further modifications. Remove the custom ad blocker rule(s) and the page will load as expected.