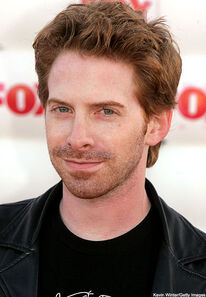 Seth Benjamin Gesshel-Green
(born February 8,
1974
) is an
American
actor, comedian, voice actor, and
television
producer who appeared as
Emil
in "
Deep Throat
", a
Season 1
episode of
The X-Files
.
He is known for his acting roles as Doctor Evil's son, Scott, in the Austin Powers series of comedy films, Mitch Miller in That '70s Show, and the werewolf Daniel "Oz" Osbourne in Buffy the Vampire Slayer.
He voices the characters of Chris Griffin on Family Guy and Flight Lieutenant Jeff "Joker" Moreau in the 2007 video game Mass Effect. He is also both the co-creator and producer of the stop-motion comedy series Robot Chicken. Green appeared in several other movies, such as Rat Race, The Italian Job, Can't Hardly Wait and, as a child, Stephen King's It.
External Links
Edit