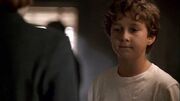 Shia LaBeouf portrayed Richie Lupone in The X-Files episode "The Goldberg Variation".
LaBeouf played the main character Louis Stevens in the Disney series Even Stevens from 2000 to 2003. His fame has increased rapidly over the last five years, with his motion picture credits including Dumb and Dumberer: When Harry Met Lloyd, Charlie's Angels: Full Throttle, I, Robot, Constantine, Bobby, Disturbia, Surf's Up and Transformers.
In 2008, LaBeouf starred in the fourth Indiana Jones film, headlined The Kingdom of the Crystal Skull.
External Links
Edit