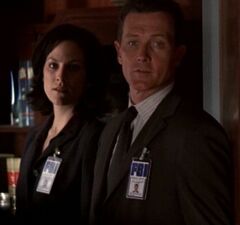 Special Agent is an FBI title (TXF: "Fight Club"). In FBI hierarchy, it is below the ranks of Supervisory Special Agent, Section Chief and Special Agent in Charge. Special Agents are occasionally referred to as Agents.
Rank of Field Agents:
Field Agents Probationary Agent Special Agent Senior Special Agent Supervisory Special Agent Assistant Special Agent-in-Charge (ASAC) Special Agent-in-Charge (SAC)
"Mulder? Where are you?"
This article is incomplete. You can help the X-Files Wiki By expanding it.
Ad blocker interference detected!
Wikia is a free-to-use site that makes money from advertising. We have a modified experience for viewers using ad blockers

Wikia is not accessible if you've made further modifications. Remove the custom ad blocker rule(s) and the page will load as expected.