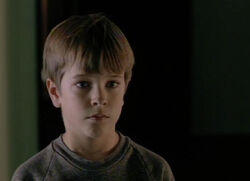 Stevie Kane
was the youngest son of Beth and Jay Kane and the brother of
Gary Kane
. Stevie's father had died in an accident involving machinery at the meat plant where he and his wife worked. Stevie lived in Delta Glen, Wisconsin where the
Syndicate
conducted an experiment with
Purity Control
. Gary had been inoculated with the substance described as a "vitamin shot" by the local country doctor, Doctor Larson. The Kane family also consumed the substance as it was administered to the cattle raised in the area. When the FBI investigated strange events related to the experiment, the Syndicate sent the
Crew Cut Man
to execute the residents involved, but was killed by the local sheriff after making four victims. When the experiment came to an end, Stevie and the other test subjects exhibited severe flu-like symptoms.
Appearance
Edit
Ad blocker interference detected!
Wikia is a free-to-use site that makes money from advertising. We have a modified experience for viewers using ad blockers

Wikia is not accessible if you've made further modifications. Remove the custom ad blocker rule(s) and the page will load as expected.